In light of the economic turmoil brought on by the COVID-19 global pandemic, the U.S. Small Business Administration has been thrust into the national spotlight to provide assistance to thousands of small businesses looking to apply for disaster assistance loans for Coronavirus-related economic disruptions.
The SBA is providing low-interest working capital loans of up to $2 million to almost all U.S. small businesses (must have fewer than 500 employees) and private non-profit organizations to pay fixed debts, payroll, accounts payable, and other expenses. These loans carry an interest rate of 3.75% for small businesses and 2.75% for nonprofits — the loan repayment terms vary by applicant, up to a maximum of 30 years. There are a few exceptions:
Agricultural Enterprises
Religious Organizations
Charitable Organizations
Gambling Concerns
Casinos and Racetracks
Additionally, due to increased volume the time to receive funds may take longer than normal and there are no fees to apply. Applicants are permitted to have an existing EIDL and still qualify for this disaster relief, but the loans cannot be consolidated (ie. If a Howard County small business has an EIDL due to the flooding, they are still eligible to obtain another EIDL for the COVID-19 disaster.) In the event their request is denied, the applicant will be given up to six months to provide new information and submit a written request for consideration.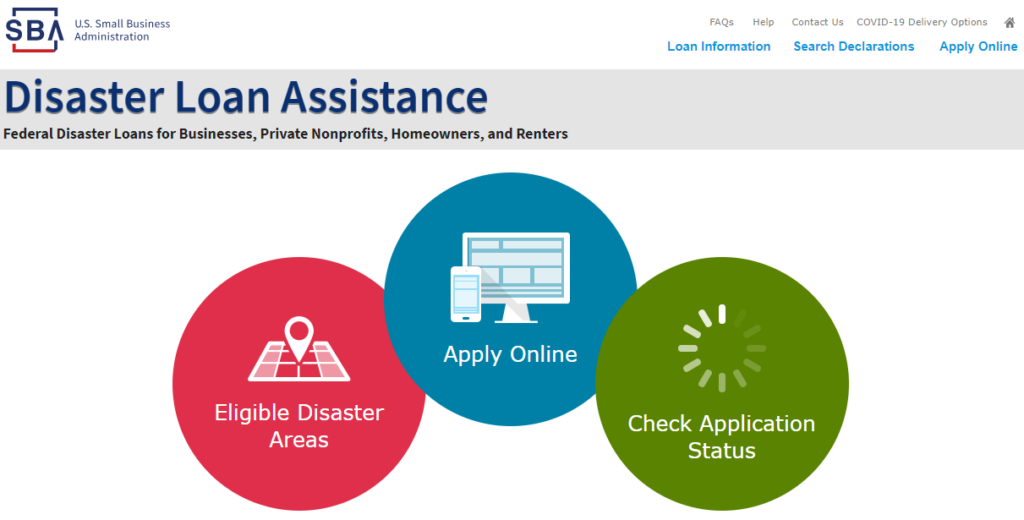 Tips for Completing the Application
Consider downloading and printing all basic filing requirements to verify that you have all requested information available before starting the online application process. Missing information will result in your application going back to the end of the queue.
Be prepared to provide monthly sales figures with the application – monthly revenue amounts will be the main driver used by the SBA to determine revenues lost during the period and the ultimate the loan amount offered.
Users have previously reported application issues using Google Chrome, so consider using an alternate browser when completing the application online.
For a step-by-step walk-through of the loan application process, here's a downloadable PDF resource from the SBA.
Process/Timing for Loan Approval
Upon submitting an application, the SBA will review your credit prior to conducting its own inspection to verify losses. They will review any existing insurance recoveries you might have but they can issue you a loan while the recoveries are pending. The SBA is aiming to make a final determination on disaster loans within a two to three week time-frame, and if you're deemed eligible, you will receive a loan closing document for your signature.
Initial Disbursement of $25,000: Expected to arrive within five days, per the SBA.
Remainder of your loan will be disbursed on a schedule until you receive the full amount.
The schedule will be set by an SBA loan officer responsible for ensuring you meet all loan conditions.
Other Important Notes
The SBA EIDL loan program is not the same as the SBA 7(a) Relief Loans reflected in the current draft of the CARES Act.
Borrowers may not obtain an EIDL and a 7(a) loan for the same purpose.
Borrowers should evaluate both potential options and choose accordingly, however, EIDL application process may still be initiated now. If offered, the loan could be declined if borrower wants to go with the 7(a) loan upon finalization of the Act.
As this crisis plays out, we will continue to monitor the situation and Government responses and provide updates as things change. In the meantime, feel free to contact us with any further questions surrounding the SBA Loan Application Process. We are here to help.